Automating business processes to enhance efficiency
Take the risk out of automation
Organisations are increasingly looking at ways to support growth, while seeking to contain costs. Process Automation can achieve this by developing repeatable and enforceable processes that allow organisations to focus on their core mandate of delivering value to the business. Robotic Process Automation (RPA) is a fast-emerging process automation approach that uses software robots to replicate human tasks.

NEC Process Advisory and Implementation services can assist organisations seeking to automate business processes, minimise risk and quickly realise efficiency benefits including; reduced time and costs, increased accuracy and compliance to enable employees to focus on customer service or other high value tasks.

Our Quick Start Advisory service provides a short, sharp, timebound and cost effective service to analyse a subset of processes to identify potential candidates for automation and help build a business case. We leverage experienced consulting and skilled technical resources to plan, design and implement robust solutions based on popular automation tools.
BROCHURE - PROCESS AUTOMATION
WHITEPAPER - ROBOTIC PROCESS AUTOMATION IN GOVERNMENT
CONTACT NEC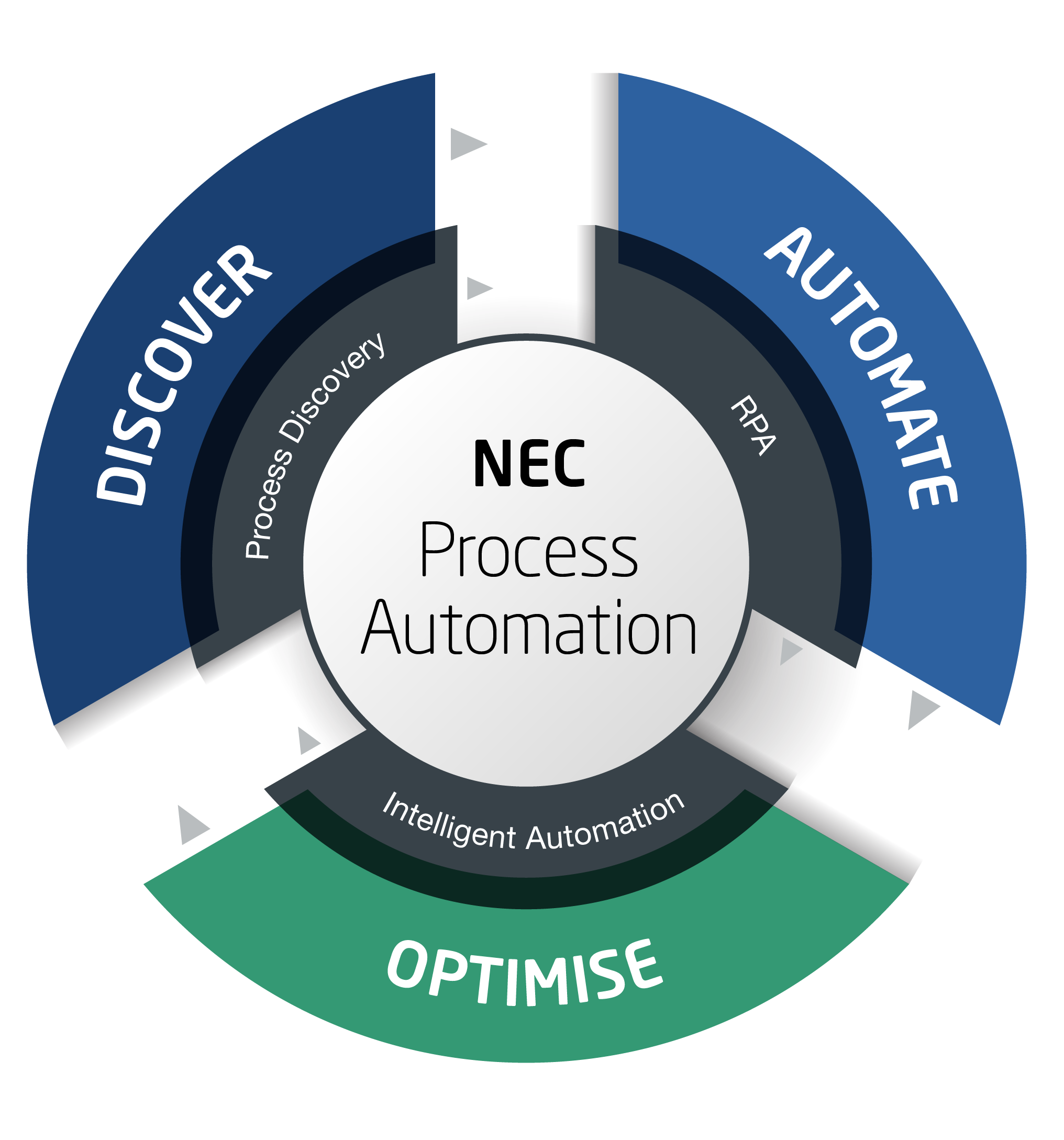 Process Automation Benefits
Reduce time and cost
Automate repetitive tasks to save significant work hours and add flexibility and scalability, resulting in increased efficiency and cost reduction.
Increase Productivity
Liberate employees from mundane repetitive manual tasks, allowing them to focus on more strategic and creative tasks.

IMPROVE GOVERNANCE & COMPLIANCE
Create a digital workforce that executes repeatable process steps more accurately and improves compliance.

Enhance Customer Experience
Enable your employees to focus on satisfying customers by addressing their needs faster and more accurately.

Leverage our expertise
NEC provides the complete gamut of services to support the automation lifecycle journey of the customer with capabilities spanning; RPA Strategy and Feasibility Assessment, Implementation & Support, RPA Governance, RPA COE Setup & Training, RPA Risk Assessment and Tool Assessment.
We've supported several automation solutions and have hands-on experience and expertise with the leading RPA tools. NEC brings a holistic, vendor-agnostic approach and can recommend a tool based on optimal alignment and process assessment.
Market Trends
of respondents
say RPA increased efficiency and reduced the time taken to complete a process.
of respondents
said they have already embarked on a Robotic Process Automation journey.
is when
Robotic Process Automation is expected to reach near-universal adoption.
Source: Forrestor Survey 2019, Deloitte RPA Survey 2018
PROCESS ADVISORY SERVICES
The workday just got a whole lot easier
All-in-One Communications Platform designed for teams of any size. Set up in minutes. One low monthly rate.