Globally, NEC is moving forward with initiatives aimed at realising the NEC Group Environmental Management Action Plan 2020/2030. Formulated in July 2016, the plan sets long-term targets for environment-oriented business management and has climate change countermeasures at its core.
NEC Australia remains committed to reducing emissions across all parts of our operations. Since 2016 consistent action has enabled significant reductions to our greenhouse emissions and increased diversion of e-waste from landfill.
Learn more
Environmental Management System
NEC Australia is committed to enhancing our environmental efficiency and we have proudly held ISO 14001 since its inception in 1996. We have established an Environmental Management Policy and implemented an Environmental Management System (EMS) based on the requirements, principles and guidelines of ISO 14001:2015 to help achieve our environmental and sustainability targets."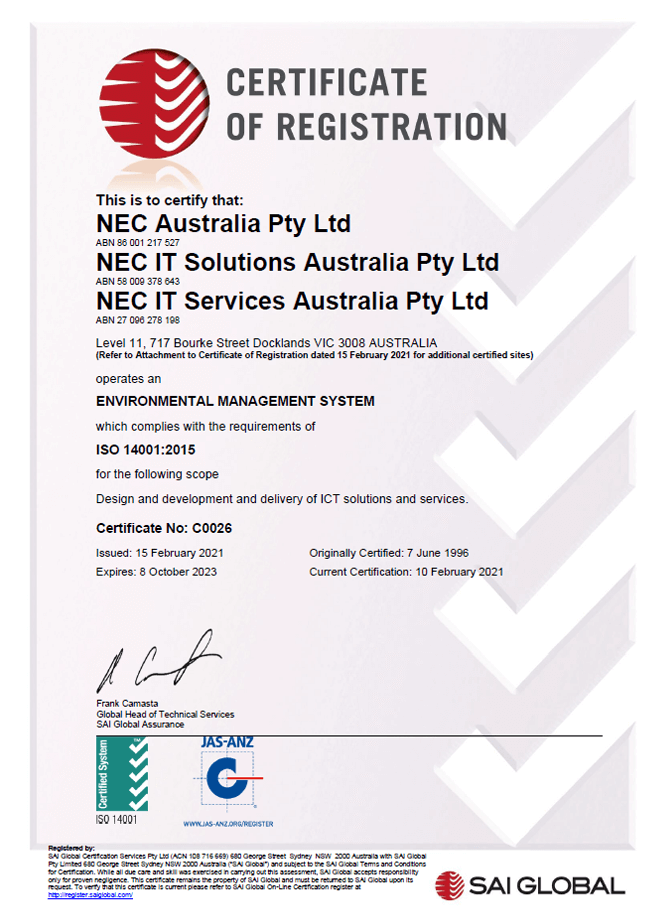 Green Procurement
In line with our "green procurement" policy, we evaluate and select equipment and devices based on performance including energy efficiency, while ensuring that performance is not compromised.
Learn more