Introducing the new Windows Collaboration Display
NEC's MultiSync® WD551 supporting maximum flexibility in hybrid working practices
For frictionless meeting experiences, with instant access whether in-room or remote, the MultiSync® WD551 is an all-in-one smart solution for modern meeting spaces.
Supporting Bring Your Own Meeting (BYOM) scenarios, users simply connect their own device via the secure USB-C cable to immediately share content and start video meetings using already familiar Microsoft tools, such as Office 365 and Microsoft Teams.
With integrated IoT sensors, the WD551 gathers telemetry from its environment such as room occupancy, temperature, ambient light and air quality data, which supports smart building strategies.
Connecting teams through BYOM, sleek modern design, familiar tools, smart space management, natural writing, user friendly control and maximum flexibility.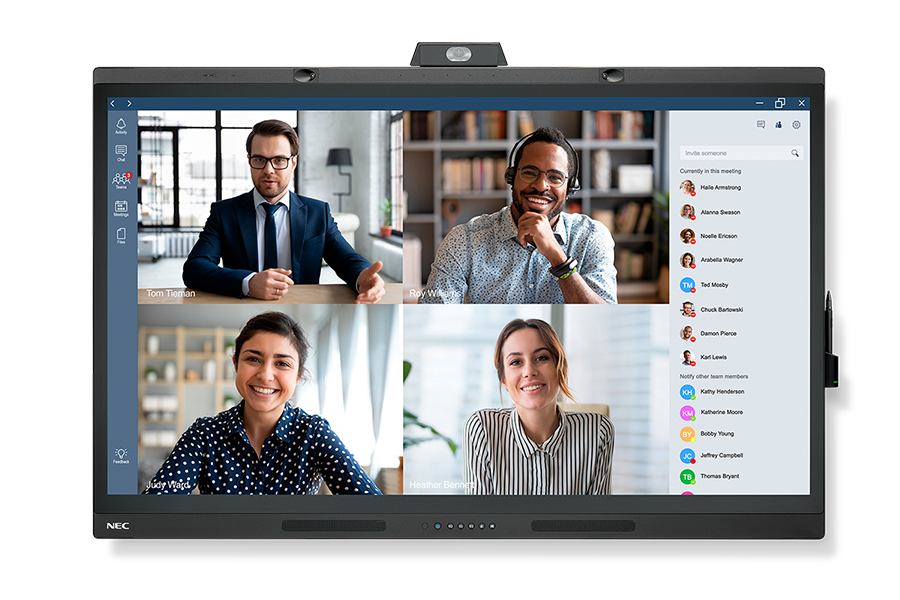 I agree and understand by submitting this form NEC Australia may contact me with information about relevant offers, products and services. I may opt out at any time. NEC's privacy policy governs how my data is stored and I understand that I can update my communication preferences at any time.
THE FUTURE OF WORKSPACE - CONNECTING TEAMS
FAMILIAR TOOLS - MICROSOFT CERTIFIED
For users already fluent using Microsoft tools such as Office 365 or Teams, it's an easy transition to interact on the big screen, with no training required. With no meeting room PC, IT administration efforts are reduced to a minimum as users simply connect via their own device.
Certified for Microsoft Teams, the built-in camera, microphone and speaker deliver perfect sound and picture quality in small meeting rooms.
The frictionless BYOM solution instantly launches meetings using Microsoft Teams or other video platforms.
SMART MEETINGS
NEC's Windows Collaboration Board is a Microsoft Certified solution bringing your teams together. When either working from home, from the office, or from anywhere, this solution brings Smart meetings to the future of Digital Workplace.
With built in IoT sensors organisations are able to optimise the use of meeting spaces and enhance environmental conditions through smart meeting space management.
HYBRID WORKING SOLVED
NEC's Windows Collaboration board allows increased flexibility, allowing employees to connect anywhere, anytime. Bringing on premise meetings to home working employees through virtual meetings and interactive chat, the boards can save on travel and overhead costs.
Through web-based video conferencing and reducing the need to have large team meetings on premise the boards are able to increase productivity and efficiency.
INSTANT SHARING
Bring your own meeting and get started in seconds via single secure connection. The WD551 offers a simple, unified solution for instant meeting start-up using any device.
A single secure USB-C cable connects your device with the display to share content or start a video meeting. This allows immediate control of the camera, speaker, mic, touch and pen, as well as powering your notebook.
Two 65W USB-C inputs enable seamless switching between two users while both connected devices receive power.