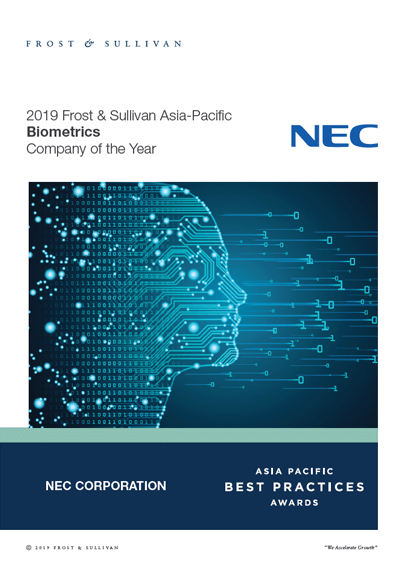 2019 Frost & Sullivan Asia-Pacific Biometrics Company of the Year
Frost & Sullivan recognizes NEC for its superior biometrics technology, innovative solutions, and high customer value and satisfaction in public and commercial applications. Amid stiff competition in Asia-Pacific, where the demand for biometric solutions is increasing rapidly in both public and commercial sector projects, NEC has successfully established itself as a pioneer in the biometrics market.
NEC's undisputed excellence in designing and manufacturing different biometric modalities, namely for fingerprint, finger vein, facial, iris, voice, palm print, and ear acoustic, shows its commitment to enhancing the quality of life by making smart cities safer and commercial businesses more secure. The 2019 Frost & Sullivan Asia-Pacific Company of the Year Award in the Biometrics Industry acknowledges NEC's product and service offerings and celebrates its success in the region.