LED Display Brings 'Boundary Conditions' to Life
8/9/22, 9:30 am
The Hyde Park Barracks in Sydney was originally built to house convicts, but today draws crowds as one of Australia's most visited historical sites. Every year the Barracks showcases a contemporary artists as part of its Annual Art Commission. This year's Art Commission featured Artist Daniel Crooks who showcased his work 'Boundary Conditions' using a digital LED canvas to explore Sydney's Hyde Park Barracks' relationship with pre-colonial, colonial and contemporary Australia.
Hyde Park Barracks and Daniel Crooks discuss the use of LED for 'Boundary Conditions'
Daniel Crooks presented an array of ideas, "It started with Daniel, he had several concepts, one sculptural, the rest digital and each of them depended on a high-quality product, so we went for the most ambitious idea.
We didn't think we were going to be able to realise it until we partnered with NEC. It was NEC's technology, the creativity of Daniel and the leading heritage and engineering professionals that made the exhibit come together," said Adam Lindsay, CEO, Sydney Living Museums.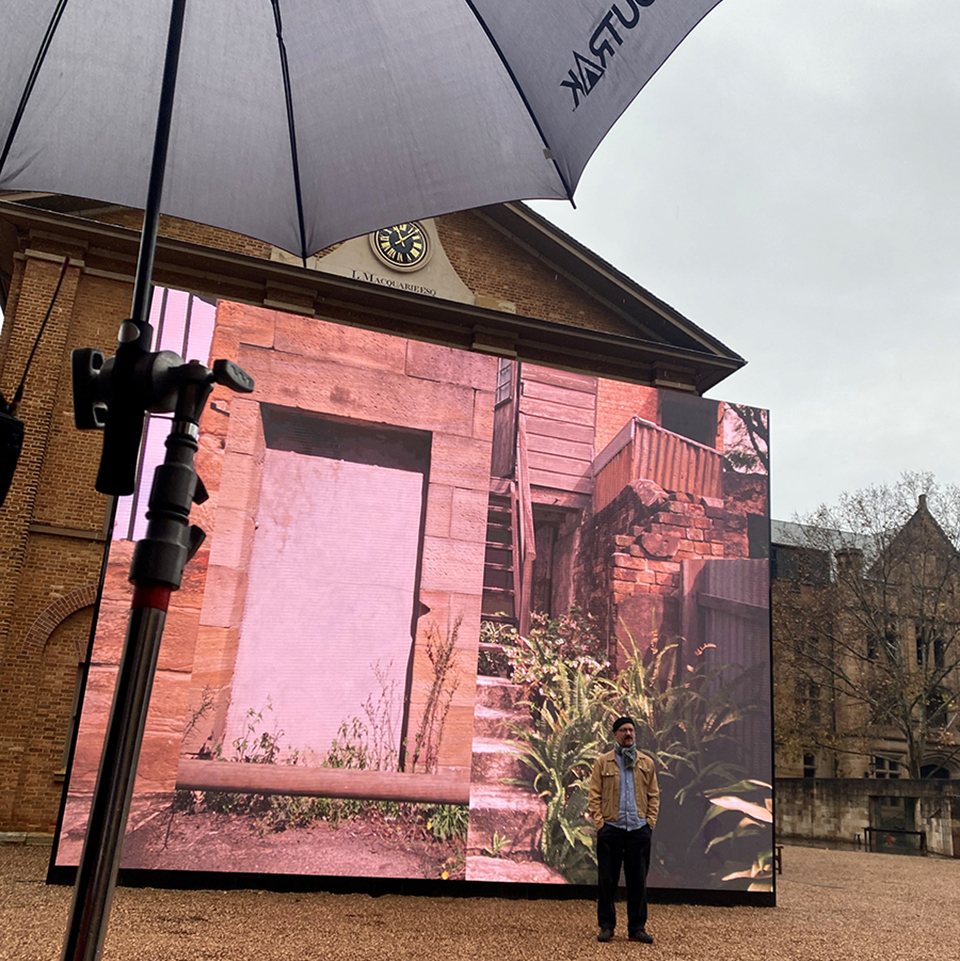 Watch video
"Digitisation allows people to experience our museums and our collections in a different way. When you put a 7 X 9 metre digital screen in the front of a world heritage site it attracts people, it's an invitation to come in and discover what's here."
Adam Lindsay, CEO, Sydney Living Museum
NEC's LED configuration is a 7x9 metre screen that mirrors the Georgian proportions of the Hyde Park Barracks. On discussing his work, Artist Daniel Crooks responded, "It's freeing the modular nature of the screens and the flexibility to configure the LED, so it takes a sculptural form and I hope audiences come to view it as a slice of imagery sitting in the space, not so much as another screen."
"LED screens are becoming increasingly common now and you see them used a lot commercially, but for a museum they offer a lot of flexibility. They provide a really easy way to alter a static space and keep the content fresh," added Crooks.
Advances in display technology provides artists and museums with new ways to engage audiences and change the way they view content and experience spaces. The high quality of LED provides artists with the ability to show cinema quality artwork outside in broad daylight without glare. These dynamic screens also give museums the ability to reconfigure the screens in different dimensions for future installations.
Learn more about LED Displays