Five minutes with Milan Djuricic
20/5/20, 10:00 am
Milan Djuricic is NEC's Director of Managed Services
Milan, your role during COVID has very much been about assisting the Business Continuity Plans of not just NEC, but NEC's customers. What have you found to be the common thread or is every case a unique one?
I don't think anyone was really prepared for responding to COVID. It doesn't feature in your regular checklist of things to prepare for. However, I think NEC did a tremendous job of transitioning to working from home and helping our valued customers do the same.
I think many of our customers really struggled with this and relied heavily on NEC and others to get them through this. So, one common thread was our customers' dependency on us. It makes me even more proud to hear and read regular and glowing praise from customers for our responsiveness in their time of need.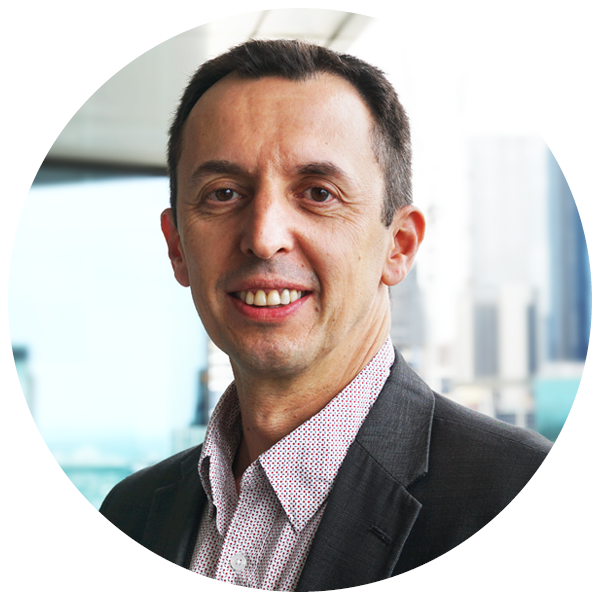 We spent some time with Milan to understand his unique challenges
COVID-19 has ensured the landscape of every business has changed permanently. What do you see as the most critical factor in ensuring not only NEC, but its customers survive and then flourish into the future?
Many companies are now ensuring their Business Continuity Plans are revised and up to date and that they are all prepared if something like this ever happened again. The reality is that we won't, I hope, be experiencing pandemics on a regular basis.
What much of this process has highlighted is the great dependency on technology and that being able to access anything from anywhere is really key to the future. We all use our smartphones and expect that. I can see the workforce of our customers wanting to do the same into the future.
And in terms of our own survival, we need our customers to continue to depend on us for their technology. We already have a number of long term contracts and these provide us with some stability, as long as we continue to deliver outstanding customer service.
---
You have by far the largest patch in NECA's operations. How do you manage to juggle those responsibilities with an estimated 80% of NEC's Australian workforce of more than 1,500 people?
It is never easy. But let's be really clear, I'm not managing it alone. I have a great team that report to me and they in turn have a lot of great people who report to them. We have so many dedicated people and each and every one of them plays a role. There are times where we need to juggle priorities and take into consideration all aspects. This is where I need to put a lot of trust in all my staff and hopefully in return, they put their trust in me.
The number of people you manage is not important, but the way you manage them is.
---
Speaking of juggling, you have a knack for doing just that and recently sent a fun video out to staff of you juggling toilet paper while talking. Where did you develop that skill?
Umm, I don't remember exactly and not sure if it's really a skill. I do remember playing a bit of tennis back in the day and juggling tennis balls whilst waiting for my opponent or practice partner. Don't forget, it's really hard to play tennis by yourself.
---
You are based in Adelaide. Are you Adelaide born and bred?
Not exactly. I was born in a little UNESCO heritage town called Kotor in Montenegro (back then it was Yugoslavia). At age 3 my mum separated from her husband and we went to Australia. I did all of my primary school in Adelaide where I have fond memories playing cricket and soccer. But then we moved back to Croatia (where my mum was from) and then Montenegro where I finished high school. I started University in Belgrade, majoring in Natural Mathematics, but then the civil war started to really escalate and had impacted everyone significantly. These were challenging times as many regions and cultures were divisive and fighting.
After about a year of that and at age 19, I grabbed the small amount of cash I had saved and moved to London, got a job and then slowly got the rest of my family (mother, brother and stepfather) over with me. After a few years, I came back to Adelaide in 1995 and have been here ever since (and despite a string of failures in finals – I am still a Crows fan).
Adelaide has a great balance of being big enough to be called a city, but small enough to not always feel like one.
---
Milan, you had an extensive career in the hospitality industry prior to NEC. Tell us a little about that.
That seems like such a long time ago now, but I do have fond memories of it. I started mostly in cafes in Croatia (I lived 30 minutes from Dubrovnik) and Montenegro.
But I really gained most of my hospitality experience over a few years in London. I worked in a few 5-star hotels on Park Lane and then in a three Michelin star restaurant, Chez Nico. Famous chefs like Marco Pierre-White had worked there and we had many celebrities such as Sean Connery, Mel Gibson and many others dine there. I was also incredibly fortunate to serve the incredibly humble late Princess Diana. A second restaurant was also opened where I was Maître D' and then also gained a Michelin star.
When I moved back to Australia, I worked at the Hyatt and then managed a bar/restaurant where we held many Fringe Festival shows. We worked really hard, often 80-100 hours per week and under very stressful situations (you should really see how things get heated between waiters and chefs). But it was somehow really rewarding meeting so many people and making customers happy. One of these customers ended up giving me a job, without prior experience in IT, and I have been there ever since.
---
So, how came the nexus between hospitality and NEC?
It's interesting you ask that because, fundamentally, they are both about customer service. Hospitality taught me a lot about working out customers' needs and how to meet and hopefully exceed their expectations.
Hospitality also taught me how to better read customers and work out how they want to be served (or "serviced" in IT) and it also taught me to be patient with them. They may not always be right (in fact they were never right if you ask the chefs), but it's important they feel that they have received value.
As you can see, it's not that different from what we do in NEC.
---
What has this working from home episode taught you above all else?
Personally, I was surprised how much I could do from home. Maybe that's the nature of my work which is lots of phone calls, presentations and video meetings.
It's also taught me the importance of regular interactions with not only my direct staff and peers, but others in the organisation as well.
I've even managed to do many customer meetings over video. It was odd at first, but I think we are fast becoming used to this "new normal".
---
NEC was famous in the 80's for its product lines. It has transformed its Australian business largely to managed services, the division you head up. How big a challenge has it been to re-establish brand awareness?
That's a really interesting point. Sometimes I meet people who think we make microwave ovens and nothing else. So yes, it's a challenge. Then I explain some of the services we do, the technologies we develop and even the patents we hold that run on every smartphone in the world.
I think David (David Borean – GM Marketing and Customer Experience) and his team have done a tremendous job in the past year or so to do exactly what you mentioned, re-establish NEC's brand awareness.
Our customers are well aware of the value we provide to them and even our existing customers are surprised about the other things we can offer.
After brand awareness, the natural progression is to focus on the awareness of our capabilities.
---
What have you been most proud of at NEC?
I can't narrow it down to one thing and that's a good sign in itself. But the two things that stand out to me the most are the ability to deliver seriously outstanding customer service and our ability to turn the business around when faced with serious challenges.
Despite the increase in workloads, demands and distractions of transitioning to working from home, we were still able to gain significant praise across the company for our great service.
Also, despite significant financial challenges in previous years with major losses, we were still able to turn things around and get back to being a successful business. This challenge is presenting itself to us again this year, unexpectedly through the economic impact of COVID-19. I do feel we can overcome this as well.
---
Milan, what is your favourite saying?
One of the things I say the most is, "Leave your brother alone!" which is often referring to my two boys who have a great knack for antagonising each other.
I'm not sure if I have a favourite saying but I have used this recently;
"Go hard or go home."
However, since we are already working from home, the only option left is to "go hard."
---
Thanks for taking part for us all Milan.