A full suite of cloud services ranging from integrated phone system, video conferencing, messaging and contact centre.
UNIVERGE BLUE® is an easy-to-use cloud-based communications platform that helps easily manage team communications and collaboration. One simple cloud app delivers a seamless, unified experience while reducing complexity and costs.
Fully integrated unified communications and collaboration solution in one seamless and intuitive experience.
Allow your teams to work when they want and in the context they want (over any channel or device) to drive the specific outcomes you want.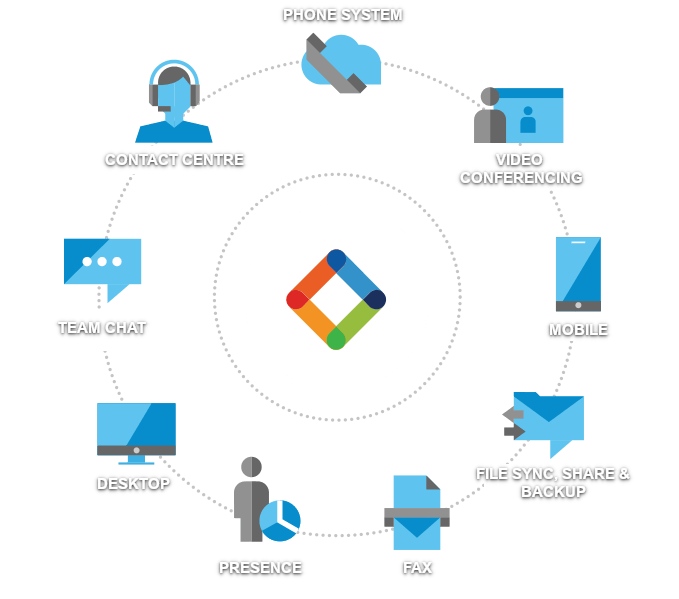 Try UNIVERGE BLUE for 30 days free*
Terms & Conditions*
Terms & Conditions
Try 30 days free*
The 30 days free subscription offer is applicable to new customers who sign up to a UNIVERGE BLUE subscription with a NEC certified UNIVERGE BLUE partner.
The 30 days free subscription offer is applicable to the cost of the subscription licences only and is subject to the Terms & Conditions of the subscription agreement.
Hardware (e.g. physical handsets, headsets, adapters etc.) is not included. • Each subscription licence includes bundled call minutes. Additional call charges may apply if the included minutes are exceeded.
Service establishment costs may apply.
Contracted subscription licence charges are applicable after 30 days.
Offer available once per customer.
UNIVERGE BLUE MEET
BRING YOUR TEAMS TOGETHER
With one-click video meetings, stay connected no matter where you are in the world with UNIVERGE BLUE® MEET. Go from sharing ideas to delivering work, all in one place.
Start a video meeting right from a messaging thread
Share your screen so everyone's on the same page
Manage the conversation flow with in-meeting chat
UNIVERGE BLUE CONNECT
UNIVERGE BLUE® CONNECT Application
UNIVERGE BLUE® CONNECT application brings essential collaboration tools together, making teamwork easier than ever.
See who is available, send team chats and text messages, place and receive calls, share screens, start video calls and manage files
All from ONE application. Available as a downloadable app for PC, Mac®, Apple App Store and Android Play Store
Integrate tightly with leading business applications with UNIVERGE BLUE EXTEND to streamline workflows and maximise employee efficiency
UNIVERGE BLUE SHARE
FILE SHARING & SECURITY
Improve team collaboration, streamline workflows and increase decision making speed with UNIVERGE BLUE® SHARE file sharing and backup. With direct access to the application from any device, teams can review recent files and backup documents quickly, no matter their location.
Real-time backup of all files, mobile photos, and videos from any device
View the most current version of files and co-edit documents in real time from any device
Integrates with Windows file server, Exchange® Email, Active Directory, Outlook®, Office®, and Office 365®
UNIVERGE BLUE ENGAGE
BRING YOUR TEAMS TOGETHER
UNIVERGE BLUE® ENGAGE is a highly customisable cloud-based contact centre solution.
Improves the handling and oversight of communications through a range of agent and supervisor contact centre services
Highly flexible solution including easy deployment for remote / home workers
Scalable from the smallest call-centric teams to large omni-channel environments
Streamlines incoming inquiries from multiple channels using smart routing and delivers context to agents for optimal customer experience
Enhance delivery and support of business by integrating admin and operational processes with UNIVERGE BLUE EXTEND