NEC Welcome is an employee and visitor access management solution, designed to keep people and organisations safe, secure and provide personalised service.
Visitor Management solution for a COVID world
The COVID pandemic has changed the way we live. As a community, we've taken drastic steps to stop the spread of infection and to keep our workplace and public venues safe.
We're also in our increasingly individualised world, where personalisation is the new currency. Organisations that persist with antiquated models of consumer interaction will perish. Businesses must be willing to meet their audiences on their terms. NEC Welcome makes this possible - safely.
When your visitor or employee arrives, they'll be required to complete an intuitive visitor registration process. If the touch-screen is used, the kiosk's UV-C screen sanitiser operates to provide clinical grade sterilisation.
There are other significant benefits for operators, including greater streamlining with repeat customer interactions and more efficient use of staff, reporting and analytics for contact tracing, visitor label printing, site induction and process automation.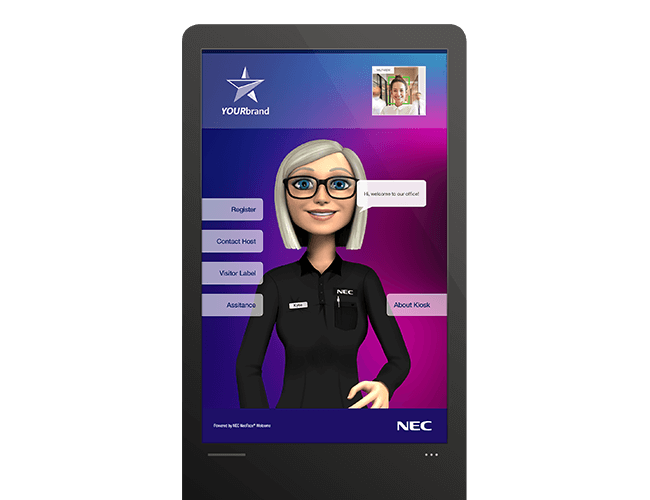 Revolutionise your visitor management process
Forget sign-in books or queing at Reception, NEC Welcome enables visitors to self-enrol for quick and safe contactless access. Visitor verification triggers personalised greetings that are fully configuarable, along with other elements such as sending an SMS notification message to a host to inform them of your arrival, playing media, providing meeting room details, wayfinding or completing on-site induction training. The kiosk can be customised to ensure your visitor process meets your exact business needs.
CUSTOMER EXPERIENCE
Unique and personalised experiences for your guests or customers.
SAFE AND CONTACTLESS
QR code presentation and UV-C screen sanitiser in case touch-screen is used.
SECURE
Access control using facial recognition reduces risk of unwanted guests.
ADDRESS PRIVACY
Hashed templates are used for matching - not facial images.
PRE-ENROLMENT
Option to pre-enrol via a mobile app for a quick and easy experience.
VISITOR NOTIFICATION
SMS notification to alert a host that their visitor has arrived.
UNSURPASSED ACCURACY
Built on NEC's world-leading technology.
BUSINESS EFFICIENCY
Staff can be utilised more effectively, enabling to focus on other tasks.
LABEL PRINTING
Integrated printer for visitor labels or other configurable content.
The workday just got a whole lot easier
All-in-One Communications Platform designed for teams of any size. Set up in minutes. One low monthly rate.