NeoScan is the world's leading mobile fingerprint identification tool designed for field-based print capture. As proven by the National Institute of Standards and Technology (NIST), NeoScan delivers a degree of speed and accuracy for both roll and plain capture prints beyond that of any competitor.
Field-based fingerprint identification demands a new grade of technology – and there is no better platform on the market than NeoScan 45.
Designed for public safety applications in the field, NeoScan delivers the highest degree of speed and accuracy for mobile fingerprinting, both roll and plain capture. It also delivers superior quality simultaneous two-finger capture.
With its class-leading technology and ergonomic design, the NeoScan 45 is easy to use and operator friendly. The supersized (40 x 38mm) scanning platen delivers enhanced fingerprint image quality and unmatched accuracy, as proven by the National Institute of Standards and Technology (NIST).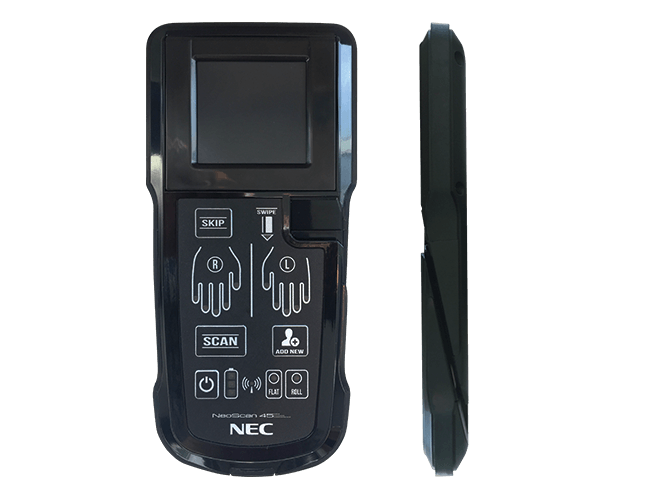 Bigger screen. Faster capture.
Superior Image Quality
Capture up to 600% more fingerprint image area and at better quality in order to promote greater biometric search accuracy.
Flexible Connectivity
Supports both Bluetooth and WiFi. Works with Apple, Android and Windows smartphones, tablets, phablets and computers.
Great Return on Investment
Law Enforcement can identify persons and offenders out of the office to accomplish more work in the field of operations.
NEC ID Biometric Authentication
NEC ID is a biometric authentication solution designed to enhance customer experience and security. Fast and flexible, this cloud-based offering enables users to connect across multiple channels including smartphones, PCs, kiosks, tablets and interactive displays.
FREE 30 Day Trial